On April 27-29th, Philadelphia is expecting millions of viewers and over 200,000 visitors for the NFL Draft. A massive platform is being built in front of the Art Museum, the Ben Franklin Parkway is being turned into a giant outdoor festival, and look at what has gone up on City Hall in anticipation of the event...
Where's the banner in support of teachers?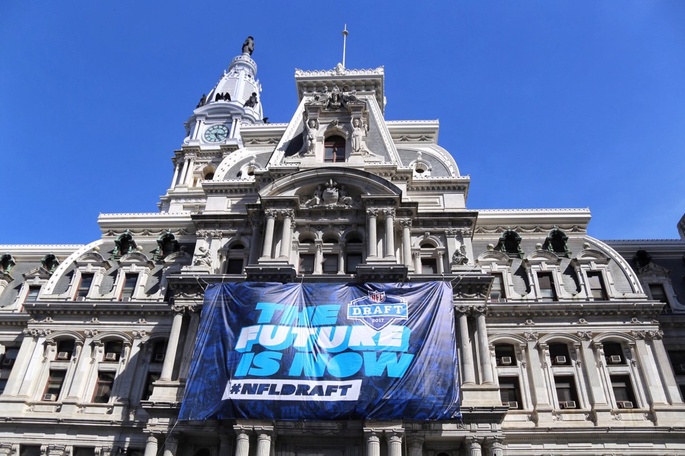 WHY DON'T WE FLY A PLANE OVER THE NFL DRAFT AND SHOW THEM OUR BANNER!
Mayor Kenney stated, "It's no secret Philadelphians are passionate about their sports teams, particularly the Eagles. In 2015 it was the pope. In 2016 the DNC, and now, in 2017, it's the NFL draft."

Let's not miss this opportunity like we did with the DNC.

If the Philadelphia Federation of Teachers still doesn't have a contract by April 27th, we need to remind our city's elected officials and the leaders of the district what they should really be passionate about - our schools.

$1300 will get us a plane to circle the Ben Franklin Parkway from City Hall to the Art Museum for approximately one hour, but if we can raise closer to $2000 (or more), this thing will stay in the air for a couple of hours until it has to refuel.
Please donate above, then take the poll and vote on what banner you would like to see flying in the air as the national spotlight turns on Philly!
REMEMBER, THE EMAIL ADDRESS ON THE POLL MUST MATCH THE EMAIL ADDRESS YOU ENTER WHEN YOU DONATE IN ORDER FOR YOUR VOTE TO COUNT: https://goo.gl/forms/3eKbZCyoIxkLJKjJ3