Do you remember the excitement of going back to school shopping? Heading down to the local store. Picking out a new backpack. Testing the range of pens in different colours and sizes. Then, when you got home, scouring through your magazines to find the perfect images to be proudly displayed on the covers of your books. When you started the new school year, you showed your new resources to your classmates with pride.
Unfortunately, the students studying at Human and Hope Association don't experience this. With 1/3 living below the poverty line and many more hovering just above it, study supplies are a luxury that their families just can't afford. This affects their willingness to come to school because, without study supplies, they are unable to retain the information they need to learn English and Khmer.
That's where you come in. We are on a mission to raise $7,000 so we can provide 50 marginalised Cambodian children with scholarship packs and free education in 2018.
Over the course of a year, each student receives:
Free education
An over-the-shoulder bag made by our sewing graduates
Two English textbooks that have been produced by the HHA team
Two Khmer textbooks that have been produced by the HHA team (if they study in the Khmer language program)
Six notebooks
Six pens
12 pencils
A home assessment is conducted by the community team before a child is brought into the scholarship program. Their parents sign a contract that commits them to allow their children to study at Human and Hope Association. They also commit to partaking in workshops on topics such as parenting, domestic violence, and road safety. Where possible, the parents partake in the sewing and/or family farm programs, so they can build their skill set and earn a sustainable income to support their children's education in the future.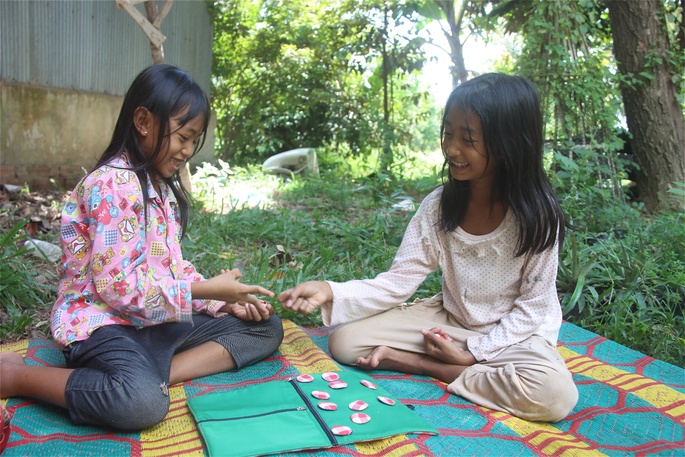 The scholarship packs are crucial for children like *Srey
*Srey graduated from HHA's preschool program in 2014, just before they relocated to their new community centre. She was enrolled by their Education Manager into public school, however, as she was young she was unable to ride her bicycle to attend Khmer classes at HHA.
In 2015, the team at HHA reconnected with Srey's family and brought her younger sister, *Pov, into the preschool program. They found out that despite excelling in preschool at HHA, Srey had failed grade one in public school and had to repeat. This took a toll on her confidence and happiness, as she had to stay behind while her friends moved forward.
The staff encouraged Srey to attend HHA again, and with her mother's permission, she began riding her bicycle to class every day. Although shy at first, Srey's confidence increased dramatically. Srey's family were living below the poverty line, so Srey was provided with a scholarship pack to utilise while studying at Human and Hope Association. She excelled in Khmer class, and could progress to English class. Even on days she was sick, Srey would beg her mother to attend HHA as she didn't want to miss out on any learning. Srey would also spend her free time practicing her language skills in HHA's library and playing with her new friends in the play area.
Srey's mother would bring Pov to school every day and pick her up, despite her work commitments. She was determined to give her children the education that she was never afforded. Their mother would also participate in workshops held by HHA to increase her knowledge and skills.
With support from HHA's teachers, and commitment from Srey and her mother, Srey has now moved up at public school. Her sister, Pov, has graduated from preschool and attends public school and Khmer classes at HHA. These two girls have a bright future ahead of them thanks to the dedication and one-on-one attention that HHA deservedly gave them.
Why does education in Cambodia matter?
Between 1975 and 1979, an estimated two million people (a quarter of the population at the time) were killed in Cambodia through starvation, torture, execution, disease, and overwork under the ruling of the Khmer Rouge. Intellectuals were targeted, and as a result, Cambodia lost most of their educated population.
It has taken a long time to rebuild Cambodia, and although the education system has developed in leaps and bounds, there is still a strong lack of education and skills in our community that has led to a life of poverty for our villagers.
With poverty comes other social issues, such as lack of hygiene which results in increased illnesses, domestic violence, and child labour. We work directly with children and their families so that with our support they can understand the value of education and help to address these social issues. We want them to break the cycle of poverty so that the next generation doesn't have to deal with the hardships that this generation does.
By educating our students we are empowering them to create sustainable futures for themselves.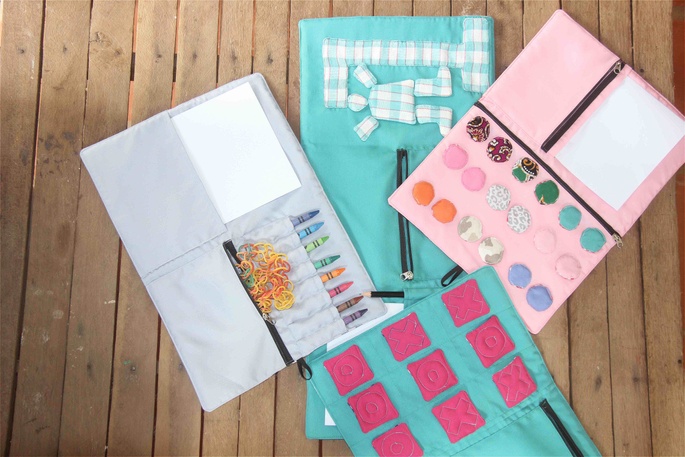 And here's some amazing perks for supporting us that you can't live without
When you donate to our campaign, you will have the opportunity to receive our exclusive new range of Children's Education Kits. These kits are perfect gifts for Christmas and will keep the kids entertained on road trips, hot Summer days and whilst waiting for the school bell to ring. These Children's Education Kits are made by sewing graduates from Human and Hope Association, so not only are you providing education to children with your purchases, you are also providing an income to the women who made them!
Naughts and crosses kit - Who doesn't love playing naughts and crosses? This kit features a game board and playing pieces and closes neatly with a coconut shell button.
Games Kit - Featuring a pad of coloured paper and eight crayons in a foldable pouch, along with a game of elastics, this games kit is perfect for children who love to burn off energy!
Hangman Kit - Let the kids battle it out with this Hangman kit! It features paper, pencils, and fabric Hangman parts.
Old School Kit - Want to keep kids entertained without a screen? Head back to the 'old days' (aka 1999) with this game kit! Featuring a 24-piece puzzle, memory game and 25 pieces of Origami paper, this game is a great present for siblings to share.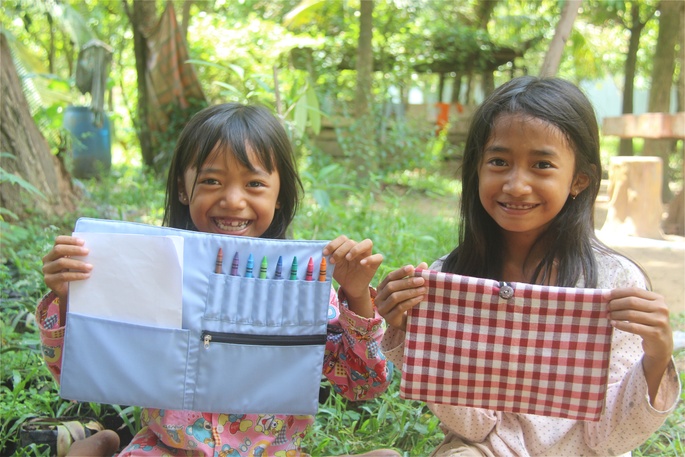 Who are Human and Hope Association?
Human and Hope Association is a registered NGO in Siem Reap, Cambodia. We are a grassroots community centre run by a local Cambodian team. We focus on empowering methods of development instead of direct aid, as for our community to move out of poverty they need to take responsibility for their futures.
Our education programs include English, Khmer language, preschool, living values, art class, library and staff development. Our vocational training opportunities include a sewing program and home sewing business. Our community projects include a farming program, community workshops, university scholarships and outreach.
We are committed to training local staff, which is why our organization became entirely Khmer operated this year. Our local team is passionate about helping their local community; they are the subject matter experts who can deal with issues in a culturally appropriate context. Our organisation is governed by a Cambodian board who are responsible for ensuring our team achieves its goals. We also have an external Australian board who are responsible for fundraising and raising awareness about HHA and other social issues in Cambodia.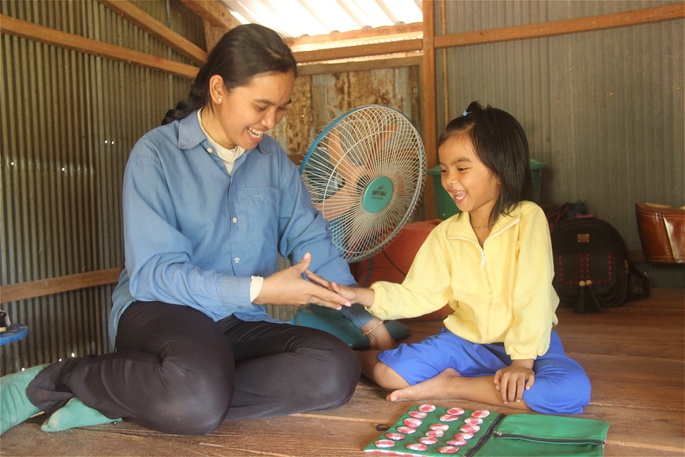 How can we ensure you are using the money as intended?
We are committed to transparency at Human and Hope Association. We want you to trust that your money will go where we say it will. To put your mind at ease, we want to share the following with you:
HHA Cambodia and HHA Inc. have a strong partnership agreement in place
HHA Cambodia's accounts are audited every three months by their qualified board treasurer.
HHA Cambodia and HHA Inc's bank accounts are verified and checked every month by the Director of HHA Cambodia and President of HHA Inc.
We display our monthly income and expenditure reports on our website.
We provide an annual report for HHA Cambodia in January each year and for HHA Inc. in August each year.
HHA Inc. has their accounts audited externally once a year and must comply with all regulations in Australia.
Additionally, we want to assure you that we don't only rely on donations. We generate some of our own income through our sewing business, farm, tuition for English classes and other means. We know that we must set a good example for our community so we work hard to show them that we don't only function on donations.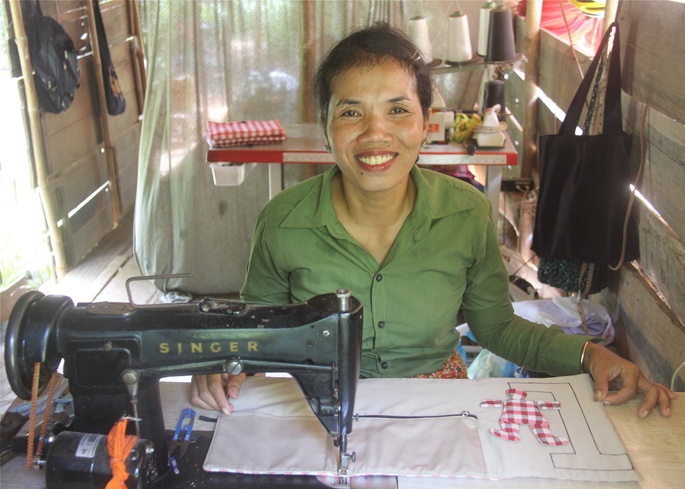 How can I find out more/get involved?
Thank you very much for your interest in helping Human and Hope Association! As a small organisation, raising awareness is key in helping us to continue and grow our programs, and empower Cambodians to create sustainable futures for themselves.
Here are a few ideas that you may like to use!
Become a monthly champion
Visit our online store and purchase our handicrafts
Set up a Do and Donate fundraiser and donate your birthday, participate in a fun run or give up something for a period of time
Get a school involved in fundraising, using the wide range of school resources available on our website
Shout out to us on your blog or website!
Get the word out on social media.
Hold a fundraiser.
To find out more about how you can help in Australia, contact our Australian board at [email protected].