With little precious wild areas left in Sydney, it has never been as important to protect our wildlife, which contributes to the beautiful rich diversity that makes up our national parks in Australia, ensuring the health of our air, soil and waterways.
Grey-headed flying foxes are ecologically very significant to this system. They are the main pollinators of the eucalyptus forests, and the only long distance pollinator. As forests become increasingly fragmented by urbanisation, bats help ensure its genetic diversity. Without bats, the forest ecology of eastern Australia has a very grey and uncertain future.
At Lane Cove National Park, the fantastic volunteers are doing all they can to protect this vulnerable and critical species from extinction. They have even created a crèche for many orphaned bats, so that they can nurture them back into the wild. They have been the ones who have contributed to the biodiversity hotspot that is the Lane Cove National Park today.
However their dedication of time is not enough – this team lacks the necessary ongoing funds for food to rehabilitate these critical species back to health, and back into the wild.
To achieve this, Landcare Australia is assisting Lane Cove National Park and the volunteers at Kukundi, to raise funds for the bat crèche. They need to raise $30,000 to buy the fruit necessary to feed the bats for one year, or we risk losing this vulnerable species. You can help make a difference with just a donation of $20, you can feed an orphaned bat for a week!
Diane is a carer of the endangered orphans living in the crèche at Lane Cove National Park. She has had a long history of caring for these intelligent, vulnerable and misunderstood creatures. Her favourite of which, is a little furry guy called Frankie.
"As a child, I vividly remember how entranced I was by these animals that were at once so familiar and so weird."
"There are so many to care for... but Frankie is my gem. As a carer, I can tell you, a big part of the attraction is emotional. Bats are very smart, affectionate, beautiful and incredibly characterful creatures. Like most mammals, bats get their "imprinted" with their mum. Orphaned bats like Frankie bond strongly with their carers and for a few demanding extraordinary months, you get to experience life with them."

"There is a day when all the carers bring in babies like Frankie to crèche for the first time. It's like youngsters being brought to preschool. Over the weeks that follow, they "wild up" and learn bat social skills. When they are done learning to fly and living in their group, they are taken to a release cage near the colony, and one by one they rejoin their wild siblings."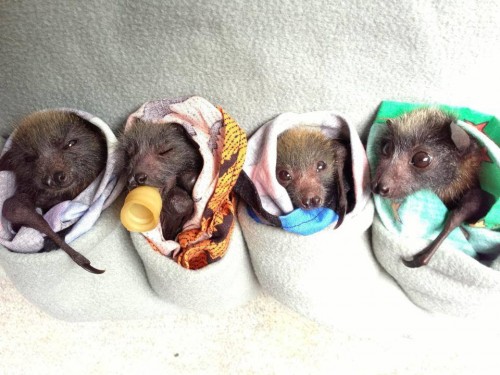 Frankie will be facing that day very soon and it will be a very emotional day for Diane when this happens.
With only 400,000 grey-headed flying foxes in the world, it has been listed as a vulnerable species here in Australia. In the last 15 years, over 50,000 flying foxes have been killed, and many are killed each year in netting (as the picture shown below). Fruit netting catches hundred of bats every year. If you do have any fruit netting at your home, it is better to protect your fruit with wildlife friendly netting, with a mesh finer than 5mm.
Landcare Australia and Lane Cove National Park need your help. It costs $30,000 each year to feed the bats. It's a continued source of anxiety and stress for the bats' carers.
We need your support to help us continue feeding these bats. In addition, we need support to help us modernise our facilities as we do need a new cool room, fridges and even hot water.
For just $20, you could feed and provide medical support to an orphaned bat like Frankie for a week, or with an extraordinary gift of $240, you could cover his costs over the full rehabilitation period. However, we will be grateful with any gift you can afford as it all will make a big difference for us.
"Not every animal we look after is a vulnerable species confronting extraordinary public prejudice. Looking after bats is not just an animal welfare issue - it is also an ecological one.
Neither pet nor pest, in protecting bats, we protect a world that does not 'belong' to us -
a world where wildness is still possible." - Diane
This is what your money can support!
$20 will help feed and care for an orphaned bat like Frankie for a week.
$80 will help feed and care for an orphaned bat like Frankie for a month.
$240 will help feed and care for an orphaned bat like Frankie for their entire rehabilitation period.