Current model of care for all pregnant people
Imagine that you or your loved one is pregnant and they are going to give birth soon. They seem unprepared and scared even though they have had prenatal care their entire pregnancy. When you ask them about their quality of care, it feels substandard.
Their care-providers sees them an average of 7 minutes each time they visit. They do not have time to talk about their emotions, nutrition, or family dynamics. They go to their appointment wait over 30 minutes to an hour to be seen. When they go in, they are seen for less than 10 minutes by their doctor. They leave their care, not knowing what their options are, they feel disempowered, they think their doctors is who delivers their babies (when it's them). They have no idea on what to expect during labor or for their postpartum period. They feel completely unprepared.
This is what a normal low-risk pregnancy visit looks for pregnant people who plan to give birth at a hospital.
Modelo actual de atención a todas las embarazadas.
Imagine que usted o su ser querido están embarazadas y que van a dar a luz pronto. Parecen desprevenidos y asustados a pesar de que han tenido cuidado prenatal durante todo su embarazo. Cuando les pregunta acerca de su calidad de atención, se siente por debajo del estándar.
Sus proveedores de atención los ven un promedio de 7 minutos cada vez que visitan. No tienen tiempo para hablar sobre sus emociones, nutrición o dinámica familiar. Van a su cita, esperan entre 30 minutos y una hora para ser vistos. Cuando entran, son vistos por menos de 10 minutos por su médico. Abandonan su atención, sin saber cuáles son sus opciones, se sienten sin poder, creen que sus médicos son quienes entregan a sus bebés (cuando son ellos). No tienen idea de qué esperar durante el parto o para su período posparto. Se sienten completamente desprevenidos.
Esto es lo que un embarazo normal de bajo riesgo busca para las mujeres embarazadas que planean dar a luz en un hospital.

Unfortunately, for Black women it gets worst...
In the United States, maternal and infant outcomes are one of the worst compared to other developed nations.
African American and Latinx people have the highest infant mortality rates, lowest breast feeding rates, and are the most likely to suffer from postpartum depression.
For Black women and pregnant people, it is worst. African-American women and their children are anywhere from 2-11 times more likely to die for pregnancy related complications.
Doctors and Nurse Midwives are failing maternal and infant outcomes because of their lack of cultural based care and their lack of listening to the needs, wants, and pain of pregnant people.
Desafortunadamente, para las mujeres negras se pone peor...
En los Estados Unidos, los resultados maternos e infantiles son uno de los peores en comparación con otras naciones desarrolladas.
Las mujeres afroamericanas y latinas tienen las tasas más altas de mortalidad infantil, las tasas más bajas de lactancia materna y son las más propensas a sufrir depresión posparto.
Para las mujeres negras y embarazadas, es lo peor. Las mujeres afroamericanas y sus hijos tienen entre 2 y 11 veces más probabilidades de morir por complicaciones relacionadas con el embarazo.
Los médicos y las enfermeras matronas están fracasando en los resultados maternos e infantiles debido a su falta de atención cultural y no escuchan las necesidades, los deseos y el dolor de las mujeres embarazadas.

The solution is Homebirth Midwives
I became a doula 5 years ago to support people in becoming parents. To help partners advocate for their laboring loved ones and to make sure that all care is consensual and beneficial to the birth person.
I discovered that as a doula my scope of practice is limited and birth in the hospital is not an ideal environment for low-risk women.
I believe that Homebirth is the solution Black women need and I am embarking on my studies as an out of hospital birth licensed midwife.
A Homebirth midwife spends on average an hour to an hour and half of care on each prenatal visit. They are not only trained in conducting medical exams on mom and baby and dealing with common complications, but they also are trained in providing care that is centered around all the needs of that pregnant person.
They know about nutrition and herbs and pharmaceutical interventions if it becomes necessary. They are trained to see birth as a normal physiological process, unlike doctors and nurse midwives who see birth as something that is doctor led and needs to be managed.
Black mothers having Black midwives in their community is revolutionary and saves lives because homebirth midwives have better birth outcomes than obstetricians. In other developed nations where birth outcomes are better, birth is led by a midwifery model of care.
La solución es el nacimiento de parteras.
Hace 5 años me convertí en una doula para ayudar a las personas a convertirse en padres. Para ayudar a los socios a abogar por sus seres queridos que trabajan y para asegurarse de que toda la atención sea consensual y beneficiosa para la persona de nacimiento.
Descubrí que, como doula, mi ámbito de práctica es limitado y el parto en el hospital no es un entorno ideal para mujeres de bajo riesgo.
Creo que parto de casa es la solución que necesitan las mujeres negras y me estoy embarcando en mis estudios como partera licenciada en el parto fuera del hospital.
Una partera de parto de casa dedica en promedio de una hora a una hora y media de atención en cada visita prenatal. No solo están capacitados para realizar exámenes médicos a las mamás y los bebés y lidiar con complicaciones comunes, sino que también están capacitados para brindar atención centrada en todas las necesidades de esa persona embarazada.
Saben sobre nutrición y hierbas e intervenciones farmacéuticas si es necesario. Están capacitados para ver el parto como un proceso fisiológico normal, a diferencia de los médicos y las enfermeras matronas que ven el parto como algo que está dirigido por un médico y necesita ser manejado.
Las madres negras que tienen parteras negras en su comunidad son revolucionarias y salvan vidas porque las matronas de parto en casa tienen mejores resultados de parto que los obstetras. En otras naciones desarrolladas donde los resultados del parto son mejores, el nacimiento está liderado por un modelo de atención de partería.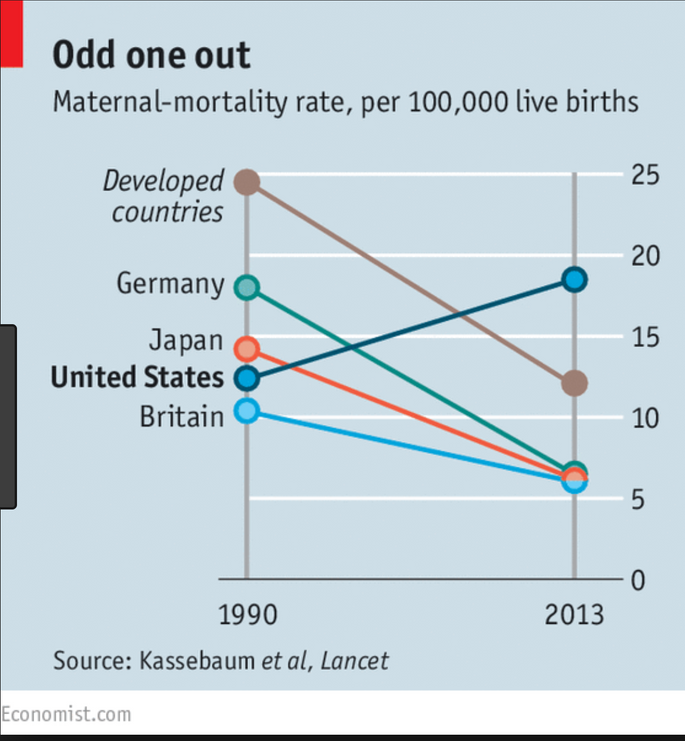 Why your input matters...
I was accepted to Luna Tierra Birth Center, a birth center in El Paso, Texas serving birthing people on both sides of the border!

I am super excited and nervous. Diving into birth-work as a Black student midwife has many challenges. A lot of those challenges could be alleviated with community support and money.
I felt compelled to work with birth people at the border through Luna Tierra. Luna Tierra is a women of color led birth center. This felt especially important to me. AND with the current administration being a total loss when it comes to humanitarian rights for all people, I feel especially call to work there. As a Spanish speaking person and as a Black person, my goal is to learn, to grow, and to serve Black and Indigenous people as a midwife.
What happens if I don't raise the money:
1. I lose my spot at Luna Tierra :(
2. I may lose my housing because my lease is up and that may change at the end of October as my rent is subsidized until then
3. I will be very very very sad
4. I will have to continue to raise the monies and prolong my education and change my life plans
5. The folks who have sacrificed and gave money till this point, will have invested in vain
What happens if I raise all the money:
1. I will become a Midwife in two years!
2. I will pay for all my schooling
3. I will pay the center, my preceptorship, and other midwives of color and help keep the center running
4. I can pay for all licensing requirements and other classes to be licensed in California (it's different from state to state)
5. I will have secured housing
6. I will be at Luna Tiera with midwives of color who are being paid for their labor!
7. I don't have to continue raising monies, and will be completely concentrated in being a skilled midwife and mama
8. I would have done this without any state support and 100% love and dedication for and by the people!
Perks if all monies are raised:
I will update everyone in my journey as a solo parent pursing a out of hospital birth midwifery license at the border in El Paso, Texas.
I will do this for everyone who gave $1 up to $30,000.
I will be abled to provide free to lost cost Doula services in El Paso when I am not busy with Midwifery work.
Zion will have a present parent in her life who doesn't have to work full time and be a birth worker full time.
I will have a tangible skill to share with my community from a radicalized, loving, and skilled perspective.
¿Por qué tu entrada importa?
¡Me aceptaron en el Centro de nacimiento de Luna Tierra, un centro de nacimiento en El Paso, Texas, que atiende a partos en ambos lados de la frontera!
Estoy super emocionada y nerviosa. Sumergirse en el trabajo de parto como una matrona estudiante negra tiene muchos desafíos. Muchos de esos desafíos podrían aliviarse con el apoyo de la comunidad y el dinero.
Me sentí obligado a trabajar con personas de nacimiento en la frontera a través de Luna Tierra. Luna Tierra es un centro de partos liderado por mujeres de color. Esto fue especialmente importante para mí. Y, dado que la administración actual es una pérdida total en lo que respecta a los derechos humanitarios para todas las personas, siento un llamado especial a trabajar allí. Como persona que habla español y como persona negra, mi objetivo es aprender, crecer y servir a las personas negras e indígenas como partera.
¿Qué pasa si no recaudo el dinero?
1. Perdí mi lugar en Luna Tierra :(
2. Es posible que pierda mi vivienda porque mi contrato de arrendamiento está vigente y eso puede cambiar a fines de octubre, ya que mi alquiler está subsidiado hasta entonces.
3. Estaré muy, muy, muy triste.
4. Tendré que seguir aumentando el dinero, prolongando mi educación y cambiando los planes de mi vida.
5. Las personas que han sacrificado y dado dinero hasta este punto, habrán invertido en vano.
¿Qué pasa si subo todo el dinero?
1. ¡Me convertiré en una partera en dos años!
2. Pagaré toda mi educación
3. Pagaré al centro, a mi preceptora ya otras parteras de color y ayudaré a mantener el centro en funcionamiento.
4. Puedo pagar todos los requisitos de licencia y otras clases para obtener una licencia en California (es diferente de un estado a otro)
5. Tendré vivienda asegurada.
6. ¡Estaré en Luna Tiera con matronas de color a quienes se les paga por su trabajo!
7. No tengo que seguir recaudando fondos, y estaré completamente concentrado en ser una partera y una madre calificadas.
8. ¡Lo habría hecho sin ningún apoyo estatal y 100% de amor y dedicación por y para la gente!
Beneficios si todos los fondos son recaudados:
Actualizaré a todos en mi viaje como padres solos que solicitan una licencia de partería de parto fuera del hospital en la frontera en El Paso, Texas.
Haré esto para todos los que dieron $ 1 hasta $ 30,000.
Tendré la capacidad de proporcionar servicios de Doula gratuitos o de costo reducido en El Paso cuando no esté ocupado con el trabajo de Partería.
Mi hija tendrá un padre presente en su vida que no tiene que trabajar a tiempo completo y ser trabajador de nacimiento a tiempo completo.
Tendré una habilidad tangible para compartir con mi comunidad desde una perspectiva radicalizada, amorosa y experta.
You can join me
I need $35,000 minimum to become a licensed midwife.
I still need monies for transportation, books, and other living expenses like food, electricity, wifi, and water, but I am happy to find ways to pay for that.
Any extra monies will go towards those other expenses and relocation costs.
Puedes unirte a mi
Necesito un mínimo de $ 35,000 para convertirme en una partera con licencia.
Todavía necesito dinero para el transporte, los libros y otros gastos de subsistencia como comida, electricidad, wifi y agua, pero estoy feliz de encontrar formas de pagar por eso.
Cualquier dinero extra se destinará a esos otros gastos y costos de reubicación.

Why give?
Because families of color deserve unbiased care. Because Black birth workers and reproductive justice for Black & Brown women should be led for and by us.
This work is not subsidized by anyone. Midwives aren't rich. This isn't the kind of profession that has scholarships or enough Black preceptors to teach other Black women.
Besides feeling good because you are giving directly to families in need of culturally and skilled based support, you are ensuring that I don't face racism in my studies or when I train other birth workers.
It is crucial that we support black and brown student midwives, so that we can collectively heal black and brown birth on Earth.
¿Por qué dar?
Porque las familias de color merecen un cuidado imparcial. Porque las trabajadoras de parto negras y la justicia reproductiva para las mujeres negras y marrones deben ser dirigidas por nosotros y por nosotros.
Esta obra no está subvencionada por nadie. Las parteras no son ricas. Este no es el tipo de profesión que tiene becas o suficientes preceptores negros para enseñar a otras mujeres negras.
Además de sentirse bien porque le está dando directamente a las familias que necesitan apoyo cultural y especializado, se está asegurando de no enfrentar el racismo en mis estudios o cuando capacito a otros trabajadores de parto.
Es crucial que apoyemos a las parteras estudiantes negras y marrones, para que podamos sanar colectivamente el parto negro y marrón en la Tierra.