Introducing the Canberra Walk for Refugees 2018

The Canberra Walk For Refugee's key message is that the issue of offshore detention has gone beyond a matter of politics and is instead a mainstream humanitarian issue. We believe offshore detention in any format no longer has the support of most Australians regardless of their politics. It is untenable and Australia must find alternatives. We aim to create an event that is large enough that the mainstream media cannot overlook it, and to further normalise the idea that asylum seeker policy can change and must move away from having its basis in fear. We stand for asylum seeker policies that do not harm people who have turned to us for help.
Offshore detention won't end until the government realises that these policies do not enjoy the support of most Australians, and that what people want is policies which provide for our safety and protection without harming the people who are seeking their own safety with us. We want to give people an opportunity to stand for a just, compassionate, wise response to this issue irrespective of exactly where they stand on the political spectrum.
This is an event to attract the most involvement of Australians from all walks of life, and the most publicity possible across the fortnight's activities.
Our Facebook page is at https://www.facebook.com/canberrawalkforrefugees for more details about the events. A brief outline of how you can be involved is below.
Offshore Detention: Manus Island and Nauru
Since July 19th 2013, it has been the policy of the Australian Government that no person seeking asylum in Australia by boat will be settled here. This includes all men, women and children. Instead, they are taken by force to offshore detention centres.

Interestingly, overall more people seek asylum by plane and actually have a much lower rate of being proved to be genuine refugees but little mention is ever made of these.

The current policy is indefinite detention. The only concrete alternatives provided are to return home or for the positives, settle in PNG. They are not safe and have no future there and in many cases all their human rights are not respected. For the negatives, they have the option of returning home or where they cannot do so because of the policy of their country, lifetime detention.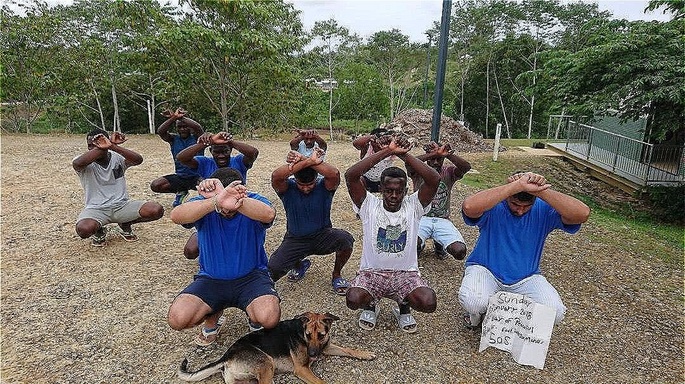 Some of the Men Peacefully Protesting

Back in late 2016, a deal was announced between our Australian Prime Minister Malcolm Turnbull and the then President of the United States Barack Obama with the U.S. agreeing to assess the refugees for settlement there and that we would in return take an equal number of their refugees from Central America.

This is a fake deal. President Trump doesn't want to honour the deal and a published transcript of a phone call between him and Mr Turnbull, indicates Mr Turnbull does not expect him to. All the deal requires is for the U.S. to vett the people on Manus and Nauru for setttlement and it doesn't have to take any specific number.

So far, 15 months later, less than 150 people have gone to the U.S. under the terms of the deal. There is no guarantee as to numbers the U.S. will take and it appears unlikely they will take all the people assessed as genuine refugees. Given Mr Trump's attitude, it is unlikely they would and even if they did at the current rate it would take simply too long.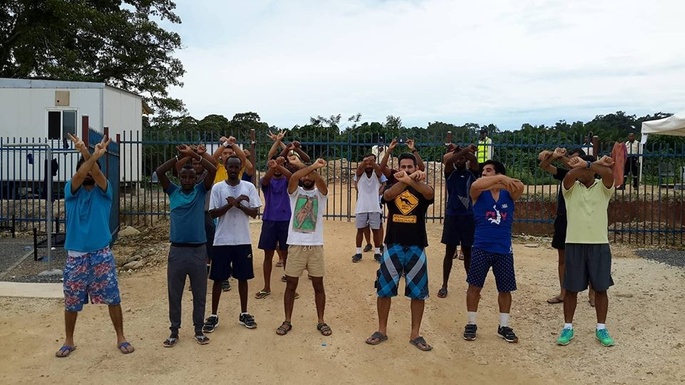 More Men Protesting at West Haus

It is important to note that all the people on Manus Island and Nauru have completed security assessments. Therefore, we know exactly who they are. They are not criminals. Currently, 86% of those on Manus Island have been assessed as genuine refugees.

On October 31 2017, the former Lombrum Detention Centre was closed and all services removed. The men were offered places at three different transit centres, two of which were not yet completed, all of which were inadequate. 400 men refused to move, accepting nothing less than freedom and safety. This left 400 men without adequate food, clothing and medical care.

Late in November 2017, all were forcefully removed to the new detention centres.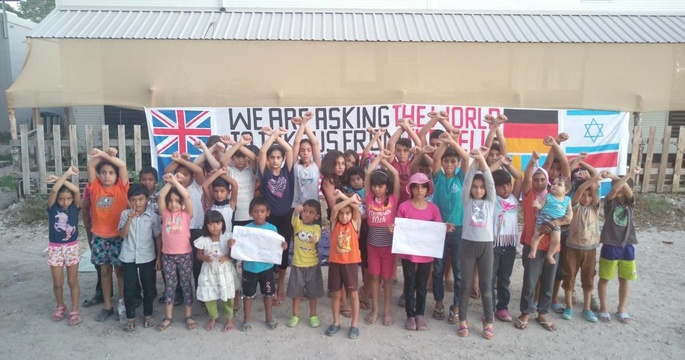 Some of the Children on Nauru

The Problem with Offshore Detention

The young men on Manus and and Nauru are just like the men in Australia. When they had to flee they would have been finishing school and starting university. They would have been going out and dating and finding girlfriends. Some would have been getting married and having children. We all have a desire for intimacy (not necessarily in a sexual sense) but this is denied the young men on Manus. This is compounded by the lack of privacy.

The children on Nauru are like our kids who want to play with their friends. The teenagers are like our teenagers who want to go out to the movies, be trendy and keep up with the latest gadgets their friends have.

The parents are like you: they want their children to be safe and educated and to have a bright future.
These people have all be denied freedom and the right to self-determination. The right to make choices about their future, the right to have an education. Many are tertiary educated already and many of those that aren't want to go on and educate themselves and have professional careers.

As one of my friends on Manus Is. said, this lack of choice and the lack of the right to self-determination, is the biggest abuse of their human rights: the lack of adequate nutrition, housing and healthcare is peripheral. The men the author (Chris Schmidt) is in contact with say "give us our freedom and give us a safe place and we will sort that out ourselves".

They are truly People Like Us with the same hopes and dreams.

There are many problems with the situation on Manus and Nauru. They include:

Australia is failing to meet its obligations under international law and the United Nations Convention on Refugees of 1951 and the United Nations Convention on Human Rights. Both these conventions Australia has signed require the speedy processing and fair settlement of people who seek safety on our shores.


They have been detained illegally for 4 ½ years and in some cases removed from contact with wives and children.


The UN says over 90% are mentally ill and they don't receive adequate mental health care.


They are denied adequate access to physical health care and medications.


Around 170 children are still detained on Nauru and some have become adults there. The effects of long-term incarceration on children is well documented by both psychologists and paediatricians. What if it was your children? How would you feel?


The new centres they were moved to in November, as stated by the UN and Amnesty, are inadequate and still incomplete.


These are very poor countries and Australia has not ensured the facilities are adequate for the locals let alone an influx of refugees.

Th
The Hospital on Nauru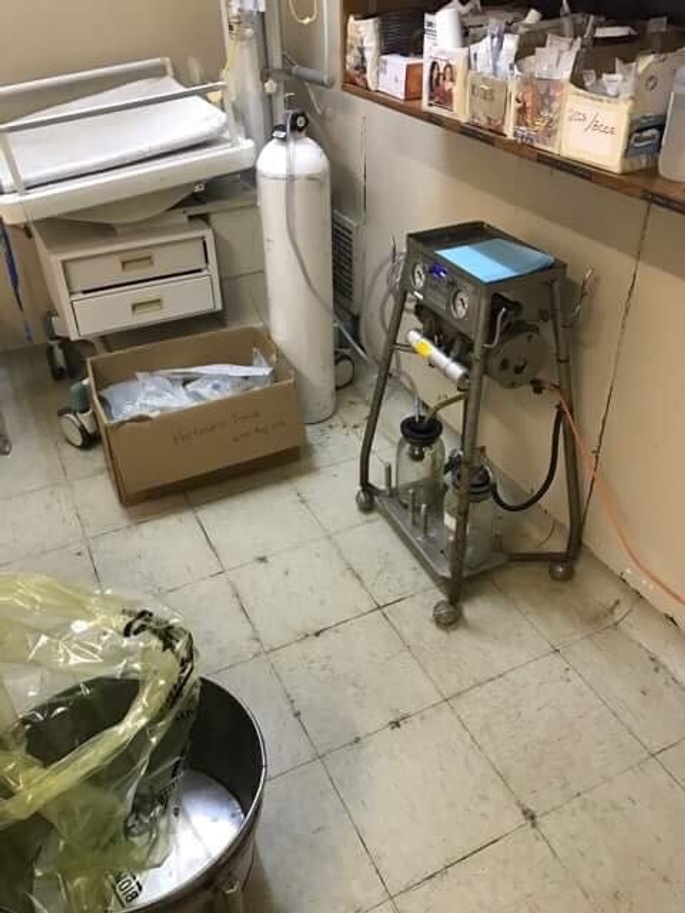 What We Are Doing About It

We need to find a solution.


Over summer in December 2016-17 in the inaugural Canberra Walk for Refugees, Adam Richards and his then 13 year old son Ned Thorn walked almost 1200km from Adelaide to Canberra to raise awareness around this issue over five weeks. This was successful in raising awareness and bringing advocates together from all around in Australia.

In February - March 2018, Adam and Ned are doing it again. They are "walking to end offshore detention", to raise awareness and unite the majority of Australians who are opposed to this policy behind a common goal of evacuating Manus and Nauru by June 30th 2018. Of course, we don't want just evacuation but a safe solution for all the men, women and children that respects their human rights.

This time, the walk will be shorter from Sydney to Canberra, but we have a rally in each city and it is possible for people to come along and join them on the road at various stages.
Marches and protests of various kinds on these issues have been going on for years. We are keen to do something different and something which involves people across the board. This would enable the issue to shift from being dismissible as a fringe political issue to a mainstream humanitarian one. Together we can make it clear that you don't have to be a "bleeding heart" or a "leftie" to be committed to finding a different, more compassionate way in which to respond to refugees and asylum seekers in this country.

You can participate in the following ways:
1) Attend one of the rallies: Sydney launch rally is Saturday 24 February. Parliament House Canberra rally is Sunday 11 March.

At the Canberra Rally, we will be marching with cardboard boats and then launching them on Lake Burley Griffin after our rally.

2) Join in and walk for a time with the team on the road during the fortnight of the walk. Different locations and meeting points will be available on our website, and people could meet up with Ned and Adam on the road for any time or distance at all. This is more practical for locals of Sydney and Canberra so please, alert all of your contacts in those two cities and see what groups they might get together.
3) Participate in the social media campaign, named the Regatta of Hope. This is designed to be easy, flexible and high impact. It is also where we anticipate the most involvement and need the most assistance.

(a) Take a photo of yourself holding a sign with #CanberraWalkForRefugees, post it to our website and facebook page and essentially help us send that image viral, much like the Ice Bucket campaign for ALS research was. In your post, add a message of hope and support to encourage the folk on Manus and Nauru. For this to go viral, we really need as many people as possible to not only do it, but to share it as widely as possible. So, in your post, please also tag 5 people to join the Social Media Campaign and take and post their own photo.
(b) Join us live on Twitter and Facebook during the events, and to publicise both the Sydney-Canberra Walk and the Social Media Campaign among your own contacts and followers.
(c) Social Media participants can hold their own walk in their local area during that fortnight (with as much publicity, signs, fanfare as possible) and keep track of their kilometres. Those distances are then tallied and added to the main walk for a larger impact. This is an additional key option for church, school and community groups. You don't need to go to Sydney to do a walk. Organise your own, make it as large as you can, choose your own distance and off you go. Imagine people doing that all over Australia! Imagine if the total distance covered was the same as from Canberra to Manus and Nauru! One of our catchphrases is "we go there, to bring them to safety", so that would be brilliant.
FUNDRAISING
The social media campaign has very few costs, however we are raising funds to cover the costs of the walk and the rallies.
This is what we need to raise funds for: expenses related to the walk.

Money is needed for following things:
First Aid Equipment: $100

Airfares for the Team: $1000 (we hope!)

Shoes: $200

Food for whole Team: $900

Hire of vehicles: $300

Accommodation for team: $1500

Petrol for support vehicles: $500

Miscellaneous Expenses: $500
In addition, we wish to raise funds to assist with medicines, phone credit and clothing for the men, women and children on Manus Island and Nauru. This will be distributed via existing registered charities.

We will start our fundraising goal at $6000. However, if we blow it out we can revise it.

LET'S BLOW IT OUT!

What We Hope to Achieve
The current policy is that none of the men, women and children be settled in Australia. However, we have had offers from other countries such as NZ to settle some of them. Some have actually applied for settlement to other third party countries individually and been accepted, but Australia is refusing to let them go.

Together we can achieve the following:
A safe solution for all the men, women and children on Manus Island and Nauru that respects their human rights.

Acceptance of the offer of NZ to take some so that people can find certainty quickly.

Speeding up of the U.S. deal so that anymore the U.S. takes are settled quickly.

A complete evacuation of Manus and Nauru. All those people finalised for the US deal or accepted under the NZ deal to be safely taken there.

This also means a safe solution for all those assessed as having negative refugee status. Both the PNG courts and the UN have assessed their processing has been illegal. They need to be reassessed appropriately. Many cannot return home, as their countries do not allow repatriation of asylum seekers and they have now been illegally detained for almost 4 ½ years.

Those whose families are split and who have wives and/or children or other close family in Australia MUST be brought here ASAP.

We believe Australians are a fair people who value, decency, compassion and a "fair go for all". Please suport us in calling for one!
Enough is enough. This is not a political issue. It is not about left versus right. It is a humanitarian issue that can not be allowed to continue.
EVACUATE MANUS ISLAND AND NAURU, creating a safe solution for all the men, women and children.
"We will not stand for offshore detention, so we will walk to end it".