Help bring this Paralympic champion home from hospital in her own wheelchair accessible Van !!
Watch the video above:click the arrow on the photo to learn more
From Tv news,radio and the front page of the Sunshine Coast Daily the media is abuzz with the story that when Maroochydore Paralympic swimmer is making a very special wish: for a wheelchair accessible van to get to work after serious injury forced her to retire from sport and left her unable to use her current vehicle.
Unfortunately Marayke has been rushed to hospital for emergency surgery and had to cancel the final fundraising event - a charity golf day and auction. Now in a desperate race against time to raise $38,000 before the permit expires to modify a van for electric wheelchair access she is trying to fundraise from her hospital bed- and dreams of getting home from hospital in her own car.

TARGET AMOUNTS
$38 000 to be a passenger
$100 000 for Steering and further modifications for Marayke to drive herself
Where are we up to?
She has the vehicle, and needs just a little more money to be able to travel in it at least as a passenger. We're half way there!
Meet Marayke

Marayke Jonkers, 33, is a retired Paralympic medal winning swimmer, paratriathlete and founder of Sporting Dreams, a grants program which helps athletes with disabilities. She learned to swim after becoming Paraplegic in a car accident as a baby, and went on to swim at 3 Paralympic Games after sitting in a little pink wheelchair as a 5 year old watching the Olympics on TV and dreaming of racing the best in the world. Unfortunately after 20 years as an elite athlete Marayke has been diagnosed with an overuse injury to her arms and now not only lives in extreme pain but requires a modified van to drive while still in her motorised wheelchair, as she is unable to propel a manual wheelchair and transport it in her current vehicle.
Imagine going from being so strong you can lift your body weight with one hand to being so weak you drop a piece of toast, and not only that being forced to stay at home because you cannot afford a suitable mode of transportation.
Imagine if every time you went to work you became bedridden in agony for up to a month because you had to use inappropriate transport – this is a reality for Marayke now as when she travels to every motivational speaking job she is required to go in a car or maxi taxi and causes her extreme discomfort.
Yet Marayke remains motivated to continue working and contributing to the community. She has overcome so many obstacles through the thoracic outlet syndrome including an inability to type or use the mouse by now using voice dictation to control her computer so that she can continue her role as a motivational speaker, sharing her journey to becoming a Paralympian in the hope it inspires others to chase their dreams.
Marayke is currently in hospital and is counting on the community to drive home her fundraising efforts,
A a bevy of celebrities from Olympians Lisa Curry, Alicia Coutts and swimmer of the year winners the Camplell sisters have jumped on board to help with her charity auction on Facebook at https://www.facebook.com/events/1500572203569632/
Your support and kind donations are greatly appreciated and will make a huge difference in Marayke's life and what she can continue to achieve. Thank You!

THERE'S ONLY 10 DAYS left to help before her govt fundraising sanction ends
Now Marayke is hoping she can call on the community to support her during the final ten weeks of her crowd fundraising campaign to help her birthday wish come tru
This is your chance to give back to someone who has inspired so many

Marayke has done so much for the community not only being inspirational to her sporting achievements but through her community work- now there is a chance for the community to support Marayke in return who has never asked for anything and is a embarrassed to have to ask for help.
HOW YOU CAN HELP
Purchase one of the unique perks listed on the right hand side of this page



Photos of perks available

Marayke's Autobiography

SPEECH: Motivate me Marayke

Marayke in action speaking on stage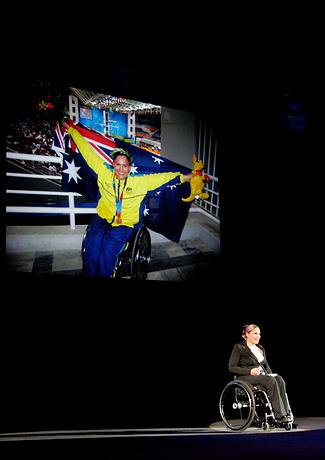 Poster: Keep Calm and Chase your sporting Dreams

Keep calm and Chase your sporting Dreams poster (unframed A3 print) Can be personally signed by Marayke if you desire. Designed by Marayke.


Read Marayke's Story
Marayke learned to swim after becoming paraplegic at 8 months of age in a car accident. When the doctors told her mum Marayke would never walk again, she taught her daughter to swim instead. Marayke's journey from becoming paraplegic in a car accident as a baby to a three-time Paralympian has inspired people around Australia through her motivational presentations and media appearances.

Marayke won a silver and two bronze Paralympic medals as a swimmer, competing at the Sydney 2000, Athens 2004 and Beijing 2008 Paralympic Games. A former world record holder and current Australian record holder Marayke represented Australia for over 10 years, breaking over 70 Australian records, and winning many international medals.

She later switched sports and became Australia's first female paratriathlete and para triathlon medallist when she won bronze at the ITU world championships in Budapest, Hungary.


FAQ


1 If I purchase an item do I receive a tax-deductible receipt?
Under Australian law if you receive something of tangible benefit- such as the items for sale on this site- it is not considered a donation and therefore not tax deductible. If you want to make a tax-deductible donation visit www.Marayke.com and follow the instructions.

WHY do we have to act fast: We only have months to fund raise for the vanTo fundraise raise legally in Queensland you require a sanction from the State Government. Ours ends in November and have to submit receipts for purchasing the car by then or all our hard work will be for nothin
Tell me more About The Vehicle
Marayke requires a vehicle which she can enter and drive while remaining in her wheelchair. This kind of vehicle modification has an automatic ramp at the rear enabling her to drive her wheelchair into the car and drive while in the wheelchair as if it was the drivers seat. She will steer using a joystick as her arm injury mean she is now not able to turn the steering wheel.

Watch the video soon this page to learn more!