A big thank you from Echo
For those of you who don't know us, Echo is a mobile library that travels in and around Athens loaning books and distributing learning resources to displaced and vulnerable people. We have recently increased our reach to visit 4 refugee camps and 4 community spaces. This means that we can loan around 80 books, distribute over 200 language learning resources, and run Greek, English and guitar lessons every week. You can catch up on our activities on our Facebook and blog, and check our our story here.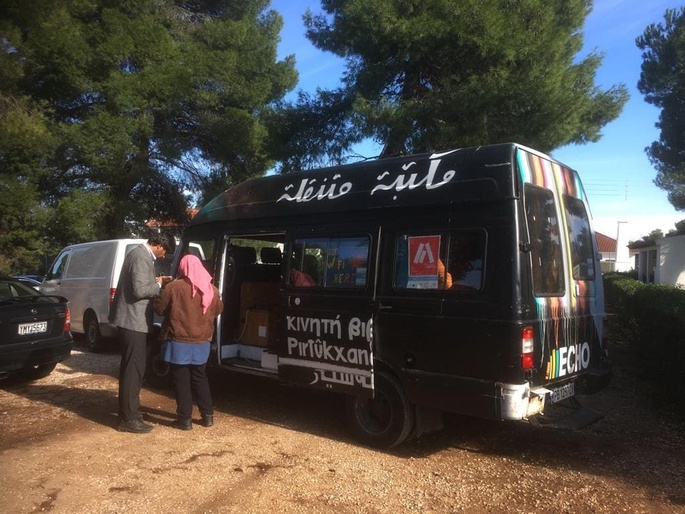 To those that have supported us in the past, thank you! Our van, our books, our monthly costs have been supported consistently by you, generous friends, aquaintances and kind strangers. We are so grateful to every single person that has supported the library's journey, and we are once again calling out to you for support, to keep our wheels rolling over the coming months.
A little to fix up the van...
Without our library van, we can't get our books out. We originally set up this fundraiser to give the van the TLC it needed to keep going. We needed a new MOT, along with new brake pads and some help with the ignition. We also needed around £2000 to cover our fuel costs and printing costs until our next grant came through. Thanks to our wonderful supporters, we made this target of £2000. Book lovers are brilliant!
...and a little more for books
Now that we are sure that we can make it to our sessions for the next few months, we are looking to restock our shelves. We've recieved generous donations of Arabic and English books from organisations and individuals. However, these are not the only languages that our library users read. In Lavrio, for example, the main languages spoken are Sorani, Kurmanji and Turkish. Books in these languages are harder - and more expensive - to come by. We would also love to be able to cover our running costs so that we can promise our library users we'll be there for them. So we are reaching out to you to ask for help keeping our shelves stocked and our wheels rolling right the way through Spring.
Book lovers unite!
If you admire our work then please share our story and consider giving a little, as a little from a lot goes a long way.