Gift for peace
The peace sculpture, of a bronzed tree cradling a ceremonial dish, originates in the remote Anangu Aboriginal communities of Yalata and Oak Valley/Maralinga in South Australia. It will be gifted to the City of Nagasaki by Mayors for Peace Australia.
In April a delegation of Indigenous leaders and artists will travel to Nagasaki to bridge links with Japanese atomic survivors, and to unveil the sculpture in the Peace Park. The crowdfunding campaign will help cover some of the end-of project costs for this important gifting.
The sculpture is inspired by Yalata community's own search for peace and harmony as Australian atomic survivors. It will create a unique Indigenous Australian presence in Japan, and provide recognition for atomic survivor communities while celebrating the forward looking initiatives they pursue.
Your donation will make a difference: To date there is no Australian sculpture in the Nagasaki Peace Park. Join us to gift this unique sculpture from Australia to Japan – an artwork and message of peace to stand for centuries in the Nagasaki Peace Park. The sculpture will join the internationally renowned collection of sculptures gifted from countries around the world.
The sculpture gift is linked with the recent 70-year commemorations of the atomic bombings in Japan, and arises from a community arts and cultural development project funded by the Australia Council for the Arts with remote Indigenous communities in South Australia whose recent history relates to the British nuclear tests.
Community background
Yalata is an Aboriginal community of approximately 300 people on the far west coast of South Australia. The community is one of many that was impacted by British-led atomic tests in Australia. In the 1950s, nine atomic bombs was tested in South Australia (Maralinga and Emu Field), leaving devastation and long-term impacts for the Indigenous communities who were forcibly removed from their traditional lands. Three atomic test were also conducted in the Monte Bello Islands in Western Australia. Over generations, thousands of Indigenous Australians, service personnel and civilian workers, and their descendants, have been affected by Australia's atomic legacies.
How will your donation be spent?
Your generous support will help towards:
The final production costs of the bronze sculpture that will stand for centuries are high.
Cultural exchange between remote Aboriginal communities and Japanese atomic survivors, when leaders and artists travel to Japan to make their special gifting.
Other costs include translation and expenses related to the unveiling ceremony on 18 April.
The gifting represents a unique opportunity for the Anangu delegates to connect and share stories with other atomic survivor communities and peace networks, and represent Australia internationally.
Rewards for donating
Your support can be as a tax deductible donation, or linked to a donor reward (see 'perks' top right). You can donate via this chuffed page (top right button) or offline by cheque or other arrangement - contact [email protected] or call +61422178739.
The rewards offered are original artwork from Yalata and Oak Valley/Maralinga communities to suit contributions of varying amounts (not tax deductible), including lino prints, copies of the 'Maralinga' picture book or a hand-made traditional wooden piti dishes.
You or your organisation can also be named as a financial contributor towards the Nagasaki Peace Park gift project on promotions and documentation if you choose.
Who's behind this campaign?
The sculpture is being gifted by the Indigenous Anangu communities of Yalata and Oak Valley/Maralinga (South Australia), Mayors for Peace (WA), and the Cities of Fremantle, Cockburn and Subiaco (Western Australia).
In addition to the gifting partners, the project is supported by MaralingaTjarutja Council, the Nuclear Futures program (Alphaville), the Graham F. Smith Peace Foundation, and the Australian Government through the Australia Council, its arts funding and advisory body. The project is not-for-profit and is administered by Alphaville arts company on behalf of Yalata Community Incorporated. More information about the project is available at: www.nuclearfutures.org
Please help support Yalata in their special gifting.
In recognition of atomic survivor communities.

The sculpture will join the international collection of existing monuments at Nagasaki Peace Park (here a just a few):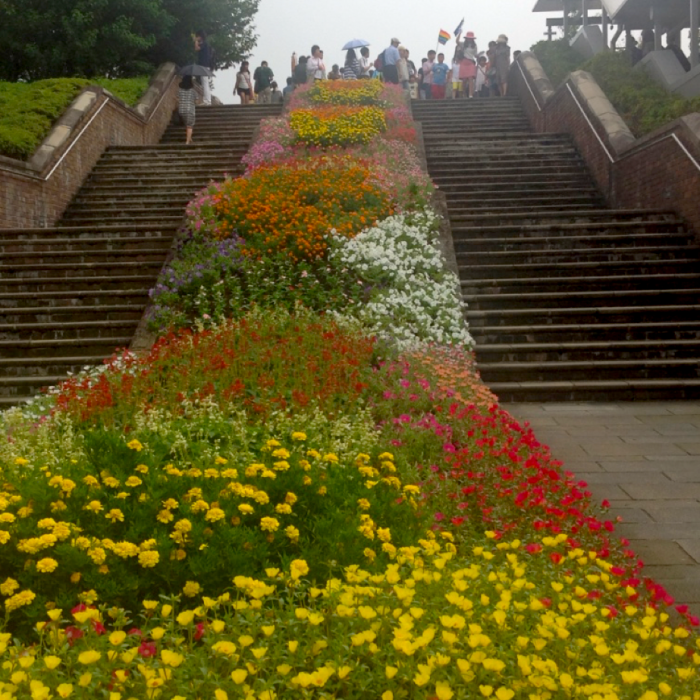 Photo credits: Jessie Boylan, Tania Safi, Danni Marwick, Ellise Barkley.
Gift for peace design: Linda Dement