In Mandurah we have vast areas of VERY shallow water and the local wild dolphins frequently strand and get into trouble and need rescuing. But there is NO specialised equipment available locally to help them!
Do you love our Dolphins? Every dollar will help!

Photo - Calf swimming in the shallows, it's fins are actually touching the bottom. Often caught out by tidal changes, the dolphins can become stranded and completely helpless
Credit Natalie Goddard
Mandurah Volunteer Dolphin Rescue Group (sponsored by Peel Preservation Group) are local first responders who assist the Department of Parks and Wildlife (DPaW) to help save these amazing animals.

Our dolphins are worth saving!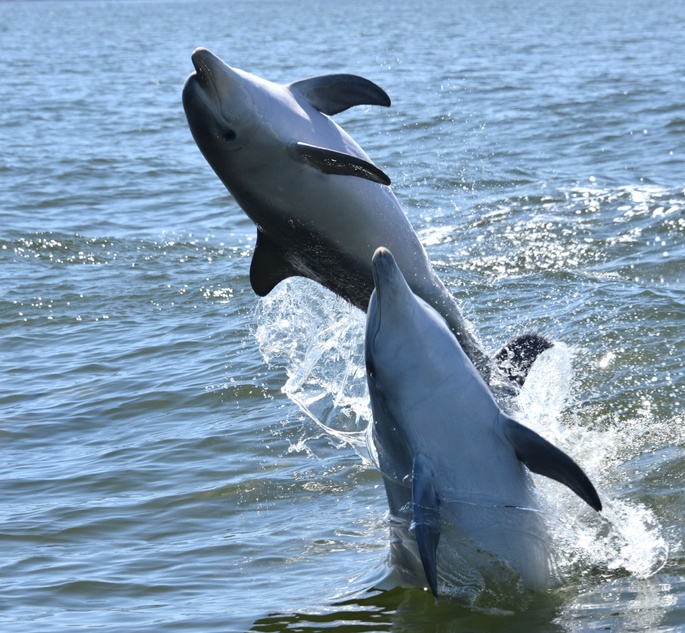 And they need our help!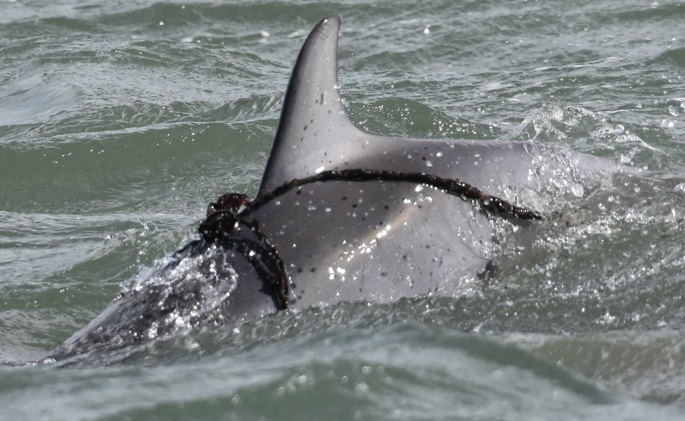 Photo - Young male calf Halo caught in rope and fishing line - successfully freed by DPaW and our team working together. It took a few days for specialised equipment to become available during which time Halo could have died
Many people wrongly believe that there are rescue and rehabiliation centres for dolphins in Western Australia.
There are none!
---
Specialised rescue equipment is urgently needed locally to ensure a prompt successful response for our dolphins.
---
Equipment to be held in Mandurah needs to include as a minimum
A number of slings small and large for all sizes of dolphins and whales
Inflatable rescue pontoons or similar shallow draft vessel (example below of a dolphin pontoon $5,000 to $10,000 each). These would greatly reduce both the stress and potential of injury to the animal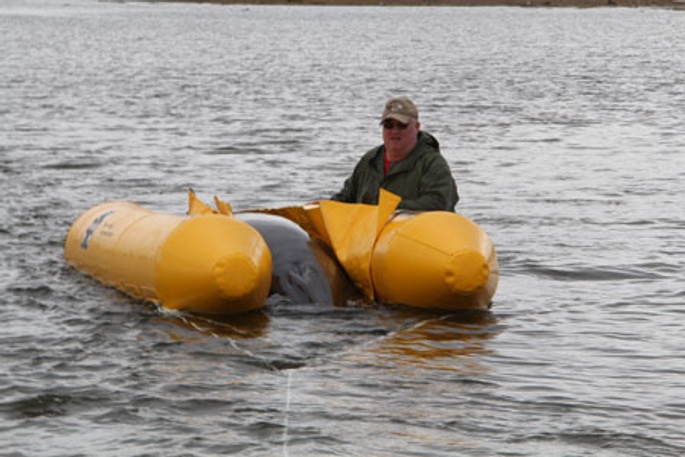 Large trailer/s with sides to relocate stranded dolphins if necessary to more suitable deep water areas by road or take deceased animals to Perth for necropsy ($2,000 each)
A number of suction cup tracking devices so that complex rescues could include vital tracking of the animal after release ( approx. $3,000 each)
Much needed expert rescue training for volunteers
Money for vet assistance. GoPro to check injuries
We thank Lush Cosmetics & Mandurah Cruises and many businesses & supporters who are now making many items a reality!
A rescue trailer packed with all the necessary equipment as used in New Zealand, USA and United Kingdom would be the ultimate!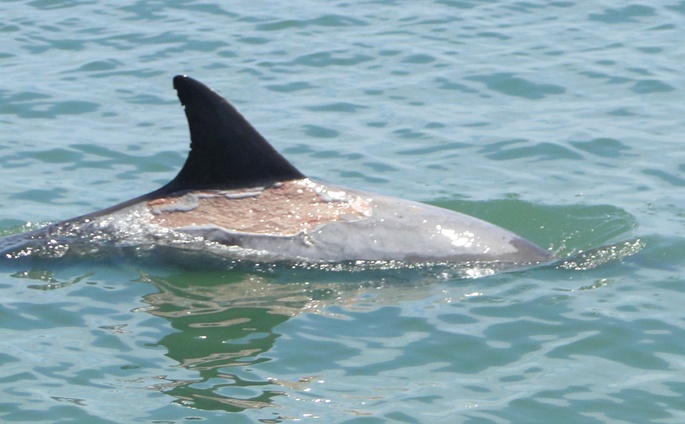 If the dolphins are not quickly rescued they can suffer significant sunburn (as shown on poor Hayley above) or even die.

The volunteer group has been involved in over 35 rescues involving more than 60 dolphins and funded all their efforts personally. You can read about the many past rescues HERE .
However it was clear with the recent complex and tragic passing of little Andrew, a 2 month old calf, just how many people really care. With specialised local equipment maybe more animals can be helped.
Let's try! No matter how small, every dollar will really help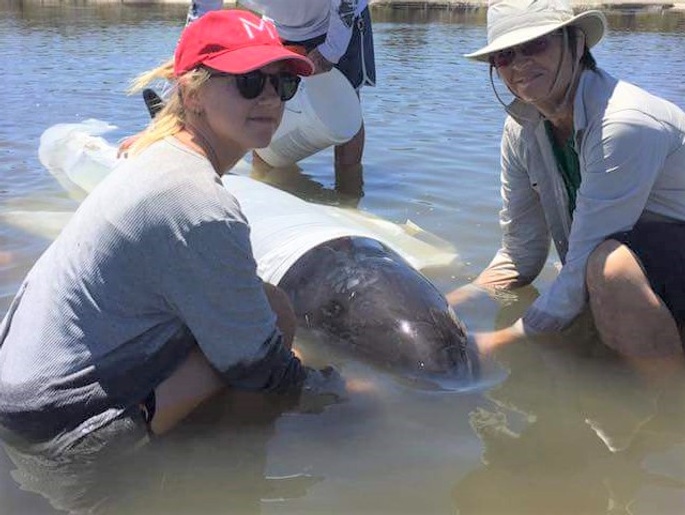 Photo - Recent false killer whale stranding. You can clearly see how shallow our waters are in large sections of the Peel/Harvey Estuary.

---
You can be assured your money will only go to helping the dolphins.

---
Other ways to help if you prefer not to donate here online :

Direct bank credit details
Peel Preservation Group Inc. (account set up for this cause only) Bendigo Community Bank BSB 633-000 Account 160070124
Mandurah Cruises have a tin available for cash donations if preferred at their gift shop/booking office - 73 Mandurah Tce on the boardwalk.
Nourishing The Soul cafe on the water at 40 Darwin Tce also have a small donation tin available as well. Both places are regularly visited by dolphins in nearby waters so make sure you visit!
Your group or office could choose to have a spare change tin or small change whiparound to help towards rescue equipment.

We also greatly appreciate businesses that can directly help towards supply of equipment.
Update!
We have been overwhelmed by many kind gestures.
Steve from South West Trailers in Mandurah is providing very generous support by making a multipurpose dolphin rescue and boat trailer at a greatly discounted price thanks steve! Special thanks to Mandurah Canvas Industries who have just generously replaced the group's stolen sling and also made one suitable for juvenile calves, much needed! Bunnings Halls Head who have generously donated a canopy to provide shelter and buckets. As well huge thanks to the Minister of Environment Stephen Dawson for our amazing new adult sized rescue sling and Parks and Wild life for all your tremendous support with equipment. A massive shoutout thankyou also to David Nicholls & Lee Holmes for donating your privately made rescue floatation device and a sling all the way from South Australia! Thankyou to the Diver family at Harvey Normans Mandurah for our discounted GoPro products. Finally we greatly appreciate Lush Cosmetics and Mandurah Cruises being our major and very generous sponsors.
Thankyou! We are getting there!!
For donations by cheque please email us here for details thanks!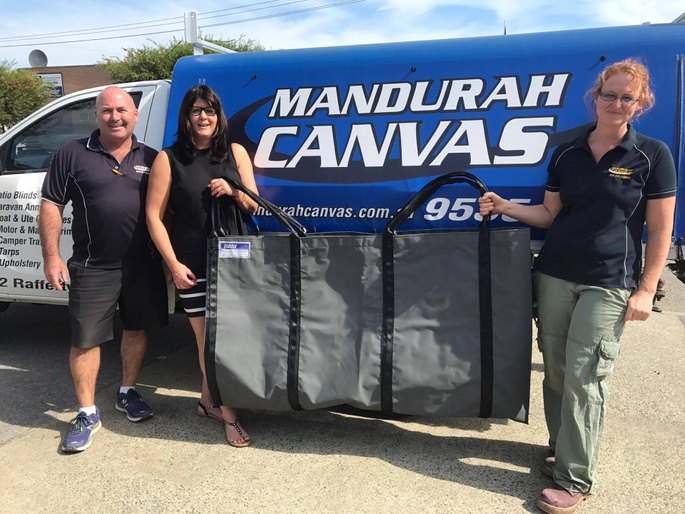 All money collected is overseen by Peel Preservation Group Inc. to ensure all funds are directed to the rescue group and then *only* spent on rescue equipment or to directly help the dolphins.
If you can help in any way we (and the dolphins) thank you so much!
~~~~~~~~~~~~~~~~