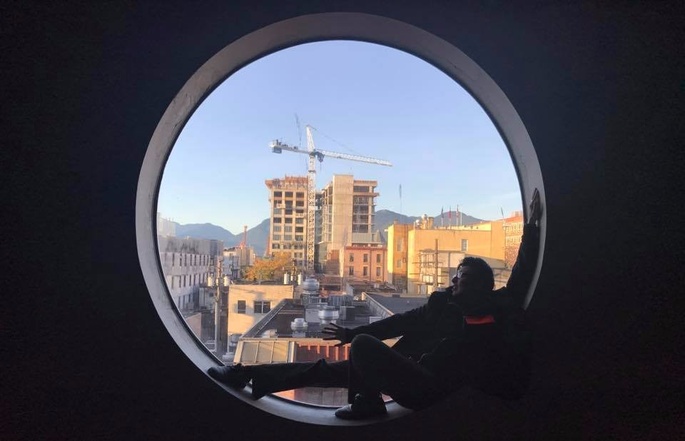 (QAF General Manager sitting in a round window, by Paul Wong)
A little bit of context
For 20 years, Pride in Art has engendered a coming together of artists and audience, who otherwise did not see space for themselves. Over the past decade this work has taken shape through the Queer Arts Festival (QAF), an annual presentation of professional multidisciplinary art at the Roundhouse. Each year, a growing number of artists, audience, and volunteers actively participate in the shared experience of the transformative power of art at QAF.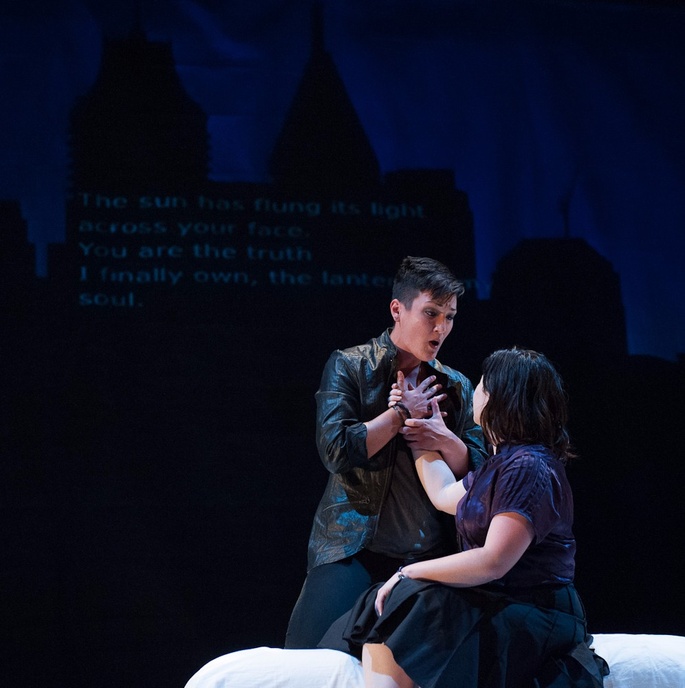 (Teiya Kasahara & Julia Morgan "When the Sun Comes out" QAF 2013, by belle ancell)
But there's a problem
Like many art organizations in Vancouver, Pride in Art has showcased cutting edge work in the form of a festival—a temporary space, once a year. The sheer number of works that we receive in preparation for the festival acts as a constant reminder of the quantity of queer work and artists that continue to have limited opportunities to present their work. Volunteers, artists, audience members, and organizations we collaborate with have expressed an urgent demand for ongoing activities throughout the year. In order to do so, we need a home to make our own, to claim space, and to support queer artists and communities more holistically.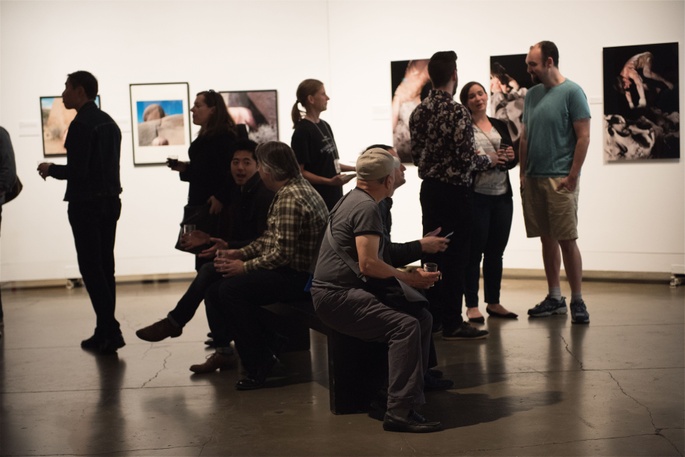 (Attendees at the visual arts exhibition during QAF 2016, by Chris Randle)
Here's what we're doing about it
We are very excited to honour the historic and ongoing struggle, work, and art by groundbreaking 2SLGBTQI creators and QPOC, by launching Canada's dedicated queer art gallery.
With our new home, the space we have been creating will now be physical, leading to more opportunities to support innovative queer art and artists. In keeping with Pride in Art's history, this next chapter also requires the drive and support of community.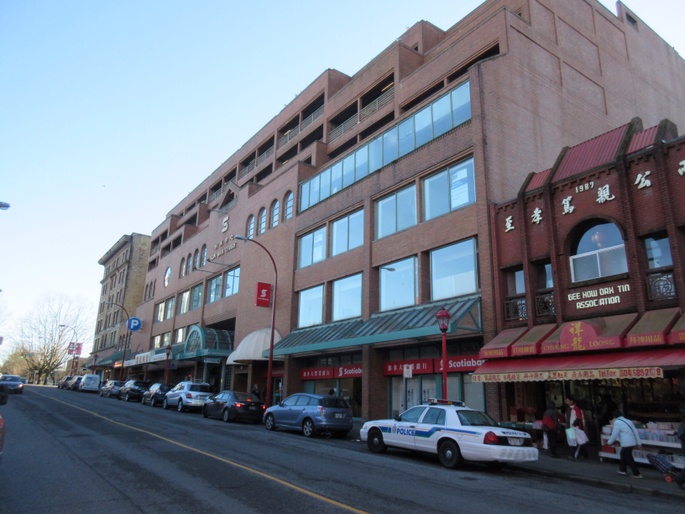 (The SunWah building exterior view from Keefer Street, by BC Artscape)
In the new year we will be joining a collection of artists, community organizations, and small businesses at BC Artscape Sun Wah (268 Keefer St) in Chinatown, where we will be sharing space and resources with our friends at the Vancouver Indigenous Media Arts Festival, Paul Wong Projects/On Main Gallery, and Full Circle First Nations Performance Society.
Chinatown and the Downtown Eastside have a dynamic, rich history that has always included diverse artistic practices. Many of the exceptional artists we work with live, create and contribute to these communities. Having a dedicated queer gallery in Canada in this neighbourhood is important. We will be joining an active queer art community and have a better opportunity to provide access to all queer folks.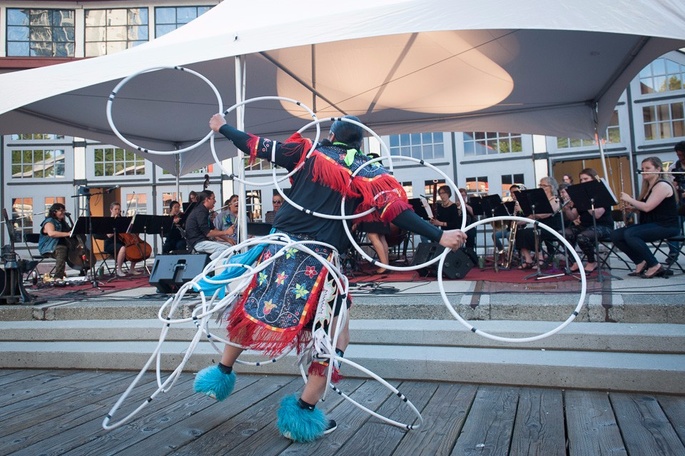 (Nimkii Osawamick Cris Derksen's Orchestral Powwow QAF 2017, by belle ancell)
Join us!
It can be difficult to fund things called "queer." Often, we are unable to rely on traditional avenues for financial support, and instead depend on relationships built on mutual love, and an understanding of the importance of the work we do and the community support that we receive.
Your contribution makes it possible for us to support artists and present high-calibre artwork year-round, in a physically and financially accessible space. This includes automatic doors, proper lighting, and audiovisual equipment.
By donating to this campaign you will help transform the site into a dynamic, innovative creation and presentation space. We respect financial barriers and appreciate any contribution you are able to make.
The McGrane-Pearson Endowment Fund (held at Vancouver Foundation) and Ken Gracie and Philip Waddell have generously agreed to match funds up to $10,000—so support us today and double your impact!

(Group photo of QAF 2017 board, staff, curator, by belle ancell)
And here's some amazing perks for supporting us
Everyone who contributes to Bling Us will receive an invitation to a super cool secret party (to happen in 2018 - stay tuned!) and have their name listed as a donor on our website. You can donate to the campaign without perks on the top of the page (tax receipt for donations of $20 and up), or select a perk on the right hand side.
A bit about Pride in Art
Mission Statement: The Pride in Art Society (PiA) produces, presents and exhibits with a curatorial vision favouring challenging, thought-provoking work that pushes boundaries and initiates dialogue, including through the Queer Arts Festival (QAF), an annual, professional, artist-run, multidisciplinary festival. PiA brings diverse communities together to support artistic risk-taking, incite creative collaboration and experimentation and celebrate the rich heritage of queer artists and art. We harness the visceral power of the arts to inspire recognition, respect and visibility of people who transgress gender and sexual norms.
Brief History: Founded by Two-Spirit artist Robbie Hong, Pride in Art (PiA) began in 1998 on the traditional, ancestral, unceded territory of the xʷməθkʷəy̓əm (Musqueam), sḵwx̱wú7mesh (Squamish), and səl̓ilwətaɁɬ (Tsleil-Waututh) peoples as a volunteer-run artist collective. PiA was incorporated as a nonprofit in 2006, and mounted the first multidisciplinary festival in 2008. Since incorporation, PiA has developed from a small, grassroots organization to a professional cutting-edge festival receiving funding from all three levels of government, employing year-round and seasonal staff, and providing hundreds of hours of volunteer opportunities yearly. PiA has presented over 1,888 artists in more than 240 events, welcomed 69,500 patrons, and incited the creation of dozens of new Canadian works through commissions, premières and curation.
The Queer Arts Festival (QAF) is an annual artist-run multidisciplinary summer arts festival at the Roundhouse in Vancouver, BC. Each year, the festival theme ties together a curated visual art exhibition, performing arts series, workshops, artist talks, panels, and media art screenings. Recognized as one of the top 5 festivals of its kind worldwide (Melbourne Herald Sun), QAF's programming has garnered wide acclaim as "concise, brilliant and moving" (Georgia Straight), "easily one of the best art exhibitions of the year" (Vancouver Sun)," some of the most adventurous of any local arts festival" (Vancouver Province) and "on the forefront of aesthetic and cultural dialogue today" (Xtra).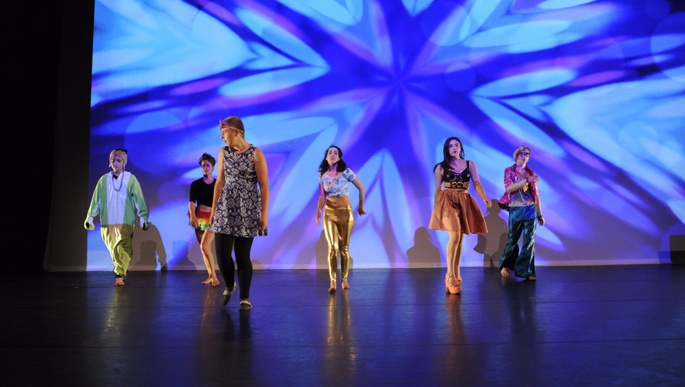 (PROX:IMITY RE:MIX by MACHiNENOiSY QAF 2015, by Chris Randle)
Our campaign partners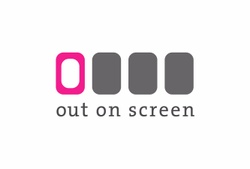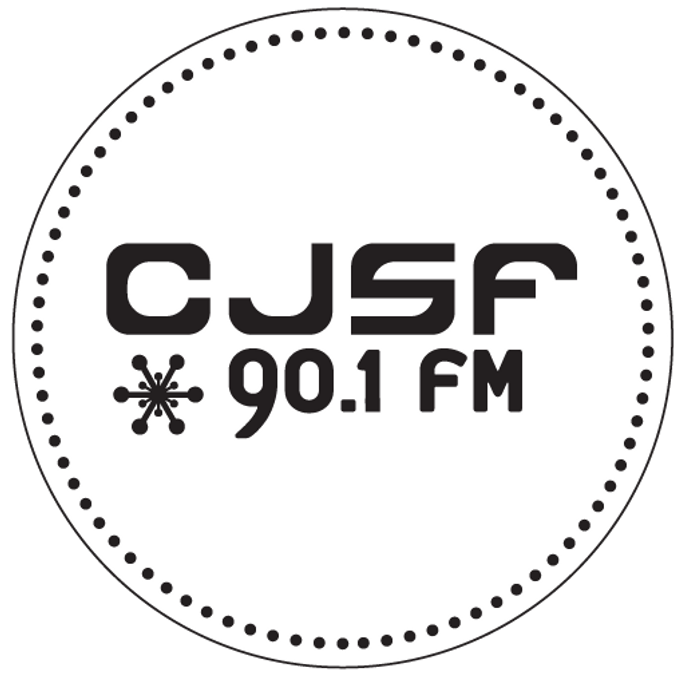 and