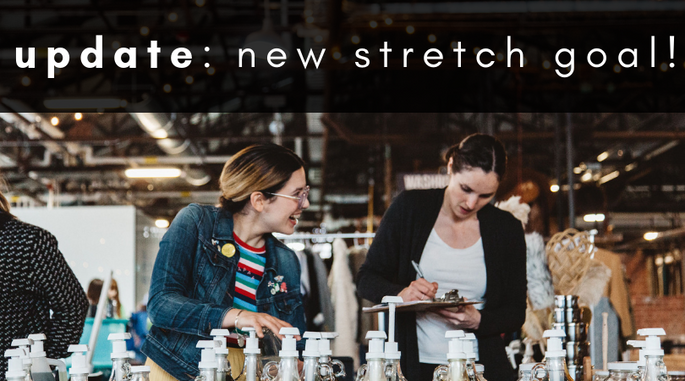 Wow!!! We can barely believe it, but are also so over the moon with excitement to announce that just halfway through our crowdfunding campaign we have reached our goal of $25,000!!!
We don't have the words to express how incredibly grateful we are to this beautiful community of people. Thank you for rallying together to support us, not just financially but emotionally as well - the comments we've received from our supporters who have donated (a whopping 256 of you so far!!) have meant the world to us. We're most excited for this vibrant community of individuals who care as much as we do about reducing waste and are are keen to move the dial together, creating momentum for change.
With the resources from this campaign we now have the ability to purchase equipment, such as bulk bins + fridges.
Now for more news! Given we reached our goal in just 16 days and we have so much more we want to make available in store, we've decided to introduce a stretch goal of $10,000.

An additional $10,000 of funds will allow us to move from the bare basics, to offering an incredible 'bar tap' dispensing solution for liquid bulk goods! This will allow an easy and fun self-pour of liquid bulk products (think shampoo, laundry detergent, oils, vinegars etc.) without spilling and without wait times.

In celebration + keep things fresh - we've just released 2 new perks:
$25 gift certificate

$55 gift certificate when you contribute $50
Both can be used online or in-store!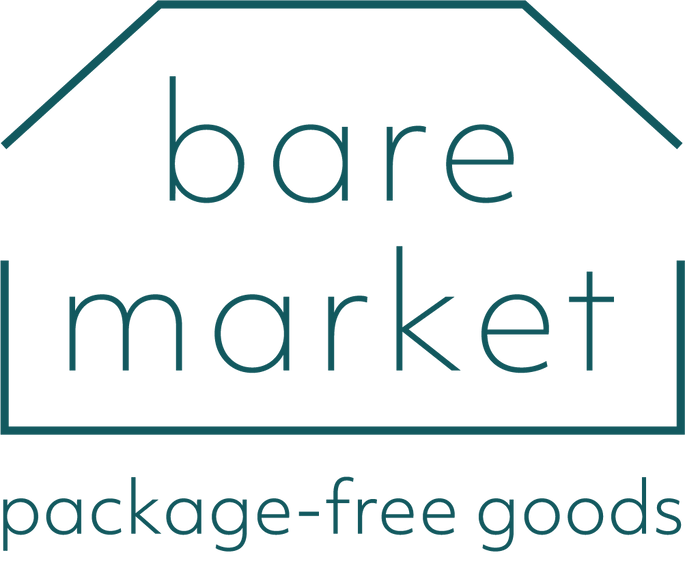 7 years ago, Dayna Stein was living in Vancouver studying sustainable food systems when she stumbled across a concept that would go on to change her life forever. It was a dedicated bulk refill store with every non-food item she could imagine. A place where she could both bring her own containers to reduce waste and take only what she needed to save money.
Dayna was captivated with how easy it felt to create such immediate and tangible positive impact on the environment while still keeping check of the ingredients she was putting on her body. In 2018, she brought the concept back home to Toronto.

You already know about the ocean gyres full of trash, the animals suffocating on it, and that Canada only recycles 9% of its plastics. Now consider all the natural resources (energy, water, mined materials) as well as time, labour, money and love that go into producing any one product. All of these resources are wasted when products and packaging are designed to end up in the dump.
While waste directly contributes to the amount of plastic pollution in our lakes and even our own backyards, it can also be a fantastic lever for change for larger and even more complex environmental and social sustainability issues at all levels of the supply chain.
Dayna started to ask the question – why is the system designed this way?? And what can we do about it, in a way that still feels convenient, accessible and even enjoyable? From there, bare market was born.

bare market is Toronto's first one-stop shop for package-free goods. We offer refillable, reusable, local and/or sustainably sourced products for consumers, while at the same time working with producers to reduce waste in their operations as well. Our aim is to make sustainable and ethical living easier and more physically and financially accessible for people from all walks of life.
Since the summer of 2018 we've been popping up at Patagonia Toronto, at special events, and at farmers' markets around the GTA with over 50 bare market pop-up shops to bring package-free goods to neighbourhoods near you.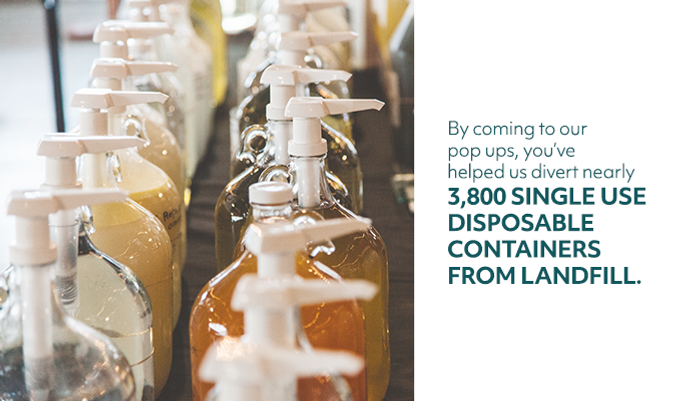 Currently, we sell home care, body care and DIY ingredients in bulk and at steep discounts compared to the same brands prepackaged in a normal retail store. We carry a large selection of non-plastic packaging to fill up with if you forget to BYOC (bring your own containers), and a number of replacements for disposable items, such as safety razors, reusable pads, non-plastic cleaning tools, and more.
Our bulk goods are sourced from Canadian producers and suppliers, to support local vendors whenever possible. On top of that, all of our body and home care products are reviewed by a cosmetic chemist to ensure there are no negative environmental, social, health or economic impacts from the ingredients. We do the research so you don't have to.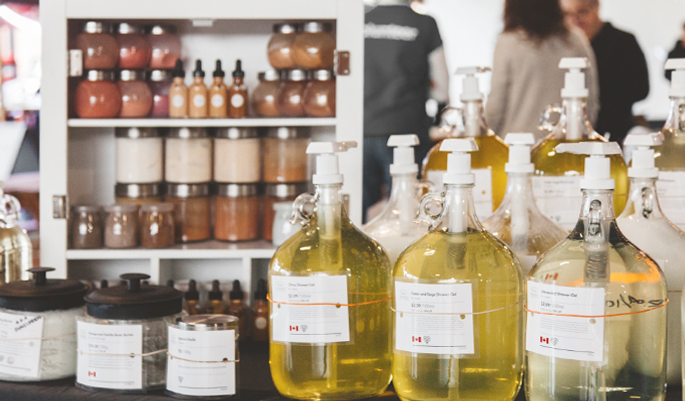 It's been a real treat to get to know this vibrant community at our pop-ups for the past ten months. We've received so much love and support from you that we feel ready to open up a permanent home in Toronto!
Along with everything we already offer, we'll be introducing fresh produce, bulk food, dairy, protein alternatives and ready-to-go prepared meals. We also hope to create a "closed-loop" cafe, meaning we'll use the surplus fresh food from our store (which would normally end up in the compost) and turn it instead into delicious snacks and meals.
We want bare market to be a community hub - where we'll look to build dialogue and bring people together through workshops, educational classes, movie screenings and so much more!

Everyone who wants to reduce their waste, should have access to a means of doing so in a judgement-free way. The low-waste lifestyle can feel intimidating and downright impossible – and that's because in some ways it is! We're not here to tell you what to do or to shame you. We want to offer an inclusive space to support any and all efforts to move towards reducing waste – whether that's making the switch from drinking out of plastic water bottles to using a reusable one, or turning your entire kitchen into a low-waste haven – bare market is for everyone.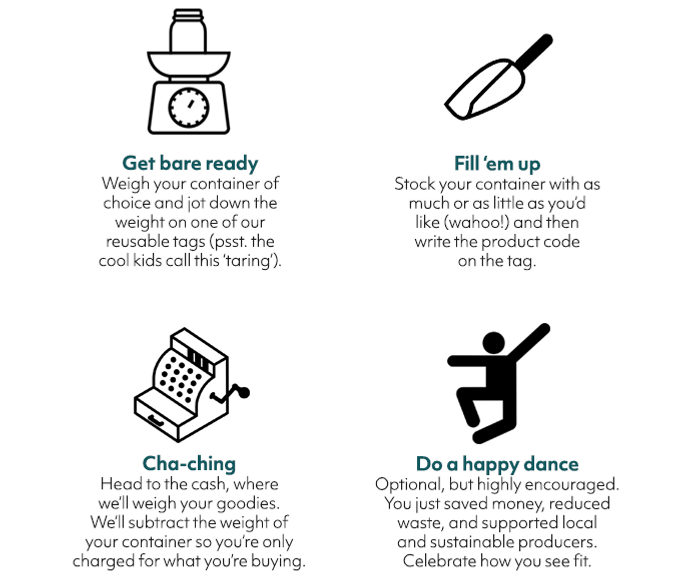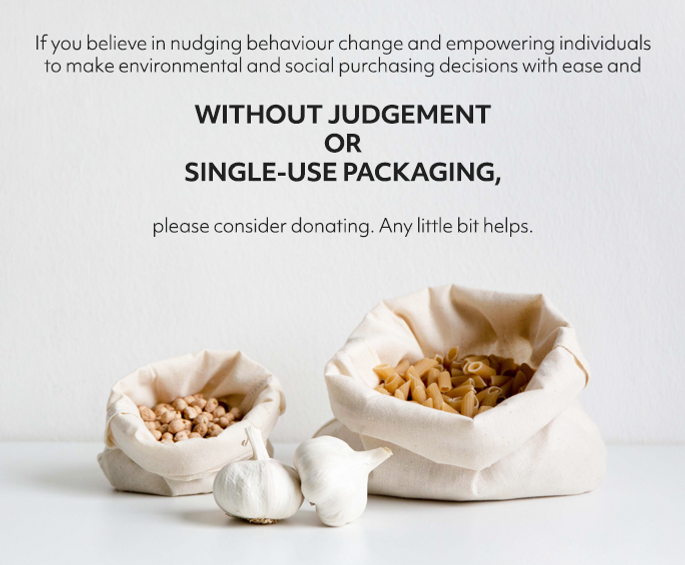 If you're unable to financially donate to this campaign, we understand. It would mean the world to us if you would consider sharing this campaign with your friends on social media, via email, word-of-mouth, or any other networks you would deem relevant.

We're so incredibly grateful for each and every donation contributed to this campaign. To thank you for your support, we're providing a selection of perks to choose from in return for your donation. Check out all of these perks along the right side of this page!
We also have the option to donate without a perk at the top right of the page - just in case you're really feeling the bare love today :)



Dayna Stein has a Bachelor of Science in sustainable food systems and food security and a Masters of Science in Strategic Leadership towards Sustainability. Prior to starting bare market, Dayna was a consultant working with clients across sectors on sustainable food systems and social enterprise development. Now she spends her days making refillable body care, home care, diy ingredients, food, and low-waste lifestyle products more physically and financially accessible to the everyday consumer. In 2018, Dayna was recognized as Notable Life's Eco-Warrior of the Year.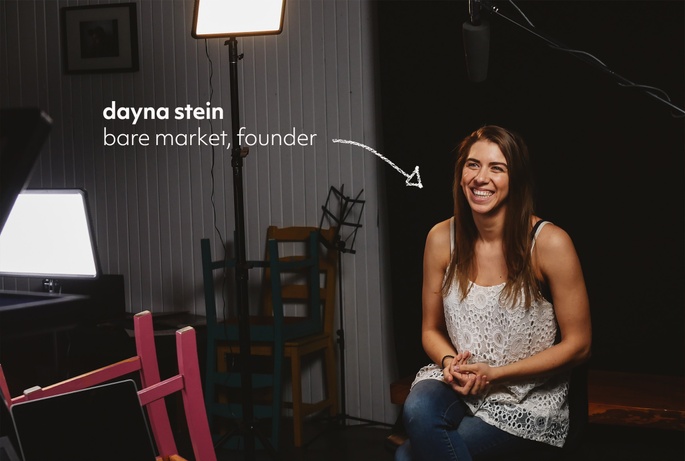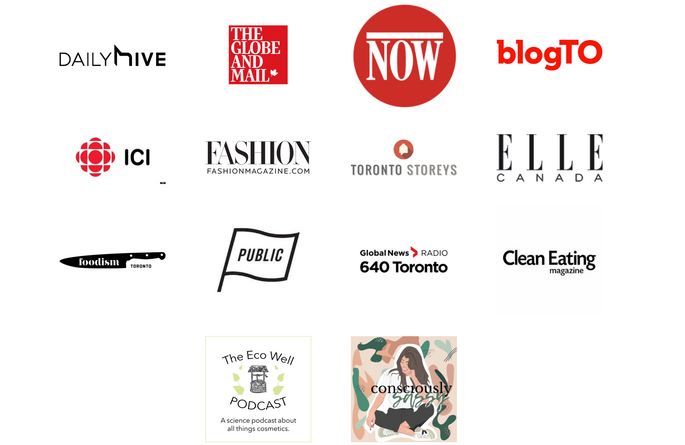 As with any new endeavour or company, there are risks and challenges associated with getting our new retail shop up and running. At the moment, the principal risk associated with our launch is formally securing the lease for our space. We are moving ahead with necessary and customary negotiations and legal formalities, and there are no red flags or concerns at the moment - yet the truth of it is, you don't know til you know. So until the lease is officially signed and the keys are in our hands, this poses the biggest risk for launching on time.
If for some reason this specific lease fell through, we would look for a new place and all of the donations would go towards the exact some expenses. If this happens, beyond needing to wait a little bit longer to get the goods in store (big sigh), you would receive your perks a little later, as they will be available when the store officially launches.
We will definitely keep all our backers up-to-date with any expected changes in the delivery schedule for perks, and for the opening date of the store. It's important to note at the moment we don't believe there will be any delays, and everything is on track and on schedule!